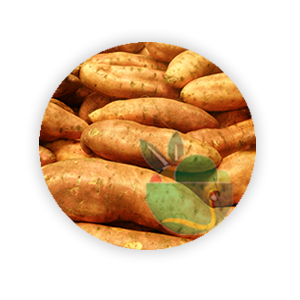 Potatoes
The sweet potato (Ipomoea batatas) is a dicotyledonous plant that belongs to the bindweed or morning glory family, Convolvulaceae. Its large, starchy, sweet-tasting, tuberous roots are a root vegetable. The young leaves and shoots are sometimes eaten as greens.
Description
Potatoes are soft and creamy enough to be put in pies and called dessert, sweet potatoes are also a surprisingly nutritious vegetable.
"Sweet potatoes are high in vitamin A, vitamin B5, B6, thiamin, niacin, riboflavin, and, due to their orange color, are high in carotenoids," said San Diego-based nutritionist Laura Flores. Plus, they're fat-free, relatively low in sodium and have fewer calories than white potatoes — although they do have more sugar.
Sweet potatoes are one of the best sources of vitamin A; a large one contains more than 100 percent of the daily recommended intake  . Vitamin A is an antioxidant powerhouse, and is linked to anti-aging benefits, cancer prevention and the maintenance of good eyesight
Health benefits:
Heart health
Sweet potatoes are a great source of B6 vitamins, which are brilliant at breaking down homocysteine, a substance that contributes to the hardening of blood vessels and arteries, according to the Harvard University School of Public Health. Sweet potatoes' potassium content is also helpful for your heart, as it lowers blood pressure by maintaining fluid balance, as explained by the American Heart Association. Potassium is also an important electrolyte that helps regulate your heartbeat.
Controlling blood sugar and maintaining energy
For as sweet as they are, sweet potatoes have a low glycemic index (which means they release sugar slowly into the bloodstream). "Sweet potatoes — unlike other starchy foods that elevate blood sugar rapidly after [they're consumed] due to their metabolism into sugar — will help steady the levels of blood sugar," Flores said. This means you won't get blood-sugar spikes, but you will get a steady amount of energy. Flores noted that this regulation occurs even in people with type 2 diabetes.
Furthermore, the Beauregard sweet potato, an orange-skinned variety grown in North Carolina, is similar to a white-skinned variety used in Japan to make a dietary supplement called Caiapo, which is marketed to control blood glucose in people with diabetes, according to an article in Perspectives, the magazine of the College of Agriculture and Life Sciences at North Carolina State University