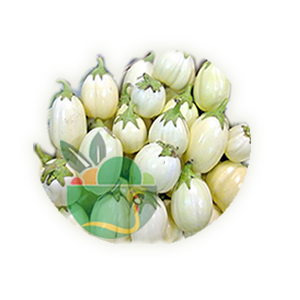 White African Egg Plant
African eggplants are botanically classified as Solanum aethiopicum and also commonly known as Mock Tomato, Bitter Tomato, Ethiopian nightshade and Scarlet Eggplant.
Description
Nutritional Value
African eggplant leaves are rich on beta-carotene, ascorbic acid, iron and calcium. The fruits bitter taste is attributed to furostanol glycosides (saponins).
Importance of White African Egg Plant
The leaves and young shoots of the African eggplant are just as important as the fruits themselves. Containing most of the plant's nutritional value, they are used in soups, stews, sautés and even pickled. The inherent bitterness of the African eggplant is complimented by slightly sweet flavors, rich proteins and smoked meats. They take well to strong flavors of curry or long braises in a simple blend of oil and garlic. Pair the leaves and fruits in recipes that include nutty cheeses such as parmesan, ham, bacon, sausage, caramelized onions or mushrooms, sweet potatoes, beans and peanuts.